Manufacturers 3D models continue to grow with the addition of content from Southern States and Reliaguard.
June 14, 2019


SBS announced during the Substation Design Solution Industry Consortium (SDSIC) 2019 Spring Meeting that Southern States and Reliaguard will be adding content to SBS's Utility Content service for Substation Design Suite.
Southern States EV-2 Assembly Configurator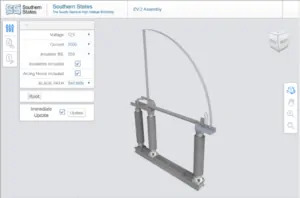 Southern States, the largest switch manufacturer of high voltage disconnect switches in the world has developed their EV-2 Assembly into a configurable model inside the Utility Content Configurator. The Southern States configurator was the result of a three month collaboration with SBS and Southern States teams on development and testing.
Tom Speas, VP of Corporate Marketing for Southern States joined Jack Hopson, SDS Product Manager for SBS on the joint announcement during the SDS product update at the SDSIC. Tom Speas went on to talk about Southern States commitment to the development of 3D models for it's products. "Work is already underway on center break and double end break switches. In addition, we are planning how best to offer switch attachments and provide usable op-mech configurations that can be integrated with the individual pole designs for each switch type."
Reliaguard provides a superior portfolio of wildlife mitigation products. Reliaguard continues to work with the SBS team and expects to have their stock content loaded into Utility Content sometime during the 2019 calendar year.