Esri – Autodesk Strategic Partnership Ushers in a New Generation of Integrated Design Solutions
SBS is pleased to announce its acceptance into the Esri Partner Network.  And it's quite an exciting time for SBS and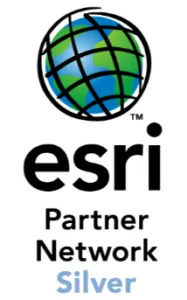 our clients.
SBS sees tremendous value of being in the unique position as one of the first Autodesk solution providers to now be part of Esri's strong community of partners. SBS has a rich heritage in geospatial solutions ever since we founded the company back in 2002.  As the company has grown, SBS has made a concerted effort to focus on productizing the technically demanding needs of integrating GIS and CAD information with both engineering systems and traditional information technology platforms as offered by companies like SAP, IBM, Oracle and others.
Why did SBS became an Esri Partner?
As an integrator, SBS has worked with most of the geospatial technologies and enterprise systems that support utility design workflows.  As our work has progressed, it has become quite clear that a great majority of our utility customers are utilizing Esri as a foundational platform for their geospatial needs.  Last year alone SBS worked with over 30 different utilities that use Esri GIS products and we are on track to work with even more in 2019.  SBS has made significant investments to develop world-class Esri technical skills and continue to expand our offerings as they relate to Esri-based integration and value-added applications.
The fact that Autodesk and Esri have agreed to a collaborative relationship has also had a big impact on the direction of the industry.  SBS will continue to advance its offerings as these two market leaders work together to improve data sharing and user experience.  You can learn more about the Esri-Autodesk partnership and what it means in this SBS blog post.
What Does SBS Have to Offer the Esri User Community? 
Over the last several years we have developed some very exciting capabilities that leverage the Esri platform from within our products.  Here is what we have been doing:
Integrated Design Solutions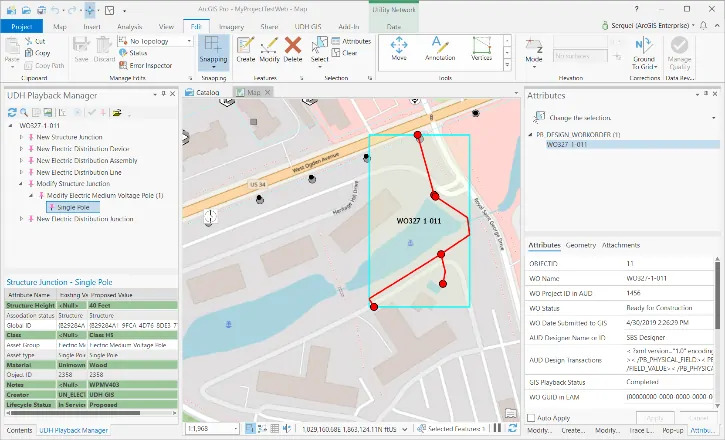 SBS' flagship product, Automated Utility Design™ (AUD), is now seamlessly integrated with ArcGIS and the Utility Network.  AUD and our Utility DataHub™ integration platform fully support ArcGIS Platform Identity.  AUD designers are now configured as users in ArcGIS Enterprise with assigned Esri user types.  Esri data sources are directly available within the AUD platform to support engineering design for electric, gas, water, telecoms and other utilities.
Esri's Utility Network is now dynamically integrated with AUD to provide advanced network analysis and geospatial insights to support utility engineering design workflows.  For example, CAD-based designers can now query the ArcGIS Utility Network to collect load information and assess customer impacts.  This also positions Esri and SBS to support more advanced design constructs as our utility clients deal with the impact of Smart Grid on their physical networks.
Intelligent Mobile Workflows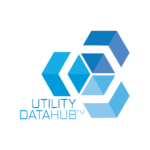 Esri mobile solutions can now fully take advantage of utility designs to support field data collection, verification and inspection workflows.  Many of our distribution design software users rely heavily on mobile GIS applications to perform up front field verification activities to support designs.  This flow of information is now seamless and truly streamlines workflows while also enabling a much higher level of design quality.  On the back end of the design process, SBS supports as-built mobile GIS workflows along with common BIM (building information management) capabilities.
3D Substation Infrastructure Data Sharing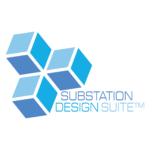 SBS is also in the early stages of working out data exchange protocols and workflows for sharing data between the SBS Substation Design Suite™ and ArcGIS Professional and ArcGIS for Buildings.  We are also evaluating the potential transformation of this data into the Esri Utility Network model.   Recently we have included Esri-based geographic information within Autodesk's BIM 360 to provide a geographic context to support construction and asset management of substations.
Come See Us at the Esri User Conference, Booth #208!
We are committed to helping our clients get more value out of their investments in CAD and GIS technologies via innovative applications and configurable, cost-effective integration solutions.   Please come by and see us at this year's Esri User Conference in San Diego, July 8- 11.  We'll be at booth #208 and look forward to seeing you.