SBS received Esri's Data Integration award at the 2023 Esri Infrastructure Management and GIS (IMGIS) Conference, held in Palm Springs, California, October 10th-12th, 2023.

SBS is grateful to be distinguished as one of only 15 Esri partners to receive an award at this year's IMGIS conference, an honor reserved for companies that have demonstrated innovative and creative ways to solve complex problems by using Esri's ArcGIS software and those who have done exceptional work in advancing geographic information systems (GIS) technology.
This award underscores SBS's excellent work to integrate ArcGIS technology with SBS CAD-based design solutions and the Esri Utility Network. SBS has further differentiated itself by pioneering configurable integrations with leading Enterprise Resource Planning (ERP) systems such as SAP and Maximo, opting for configuration over custom coding. It may be this innovative approach that has led 15 of the top 20 largest utilities in the United States to choose SBS for their utility design solutions.
An important part of the software platform is the Utility DataHub™, a configurable set of interfaces that allows virtually seamless data exchange between ArcGIS, design, enterprise asset management, and operations. With the ability to map existing facilities, attributes and connectivity into CAD, designers then augment their designs with analytical values, material assignments and 3D representations prior to returning the data back to ArcGIS Professional and Esri Utility Network. Pre-design data collection or post-design As-built data interoperability is also supported in the Esri ecosystem. This level of data integration – of extending the power of Esri into the CAD world – allows for the type of innovative workflows the industry requires to meet the challenges of today.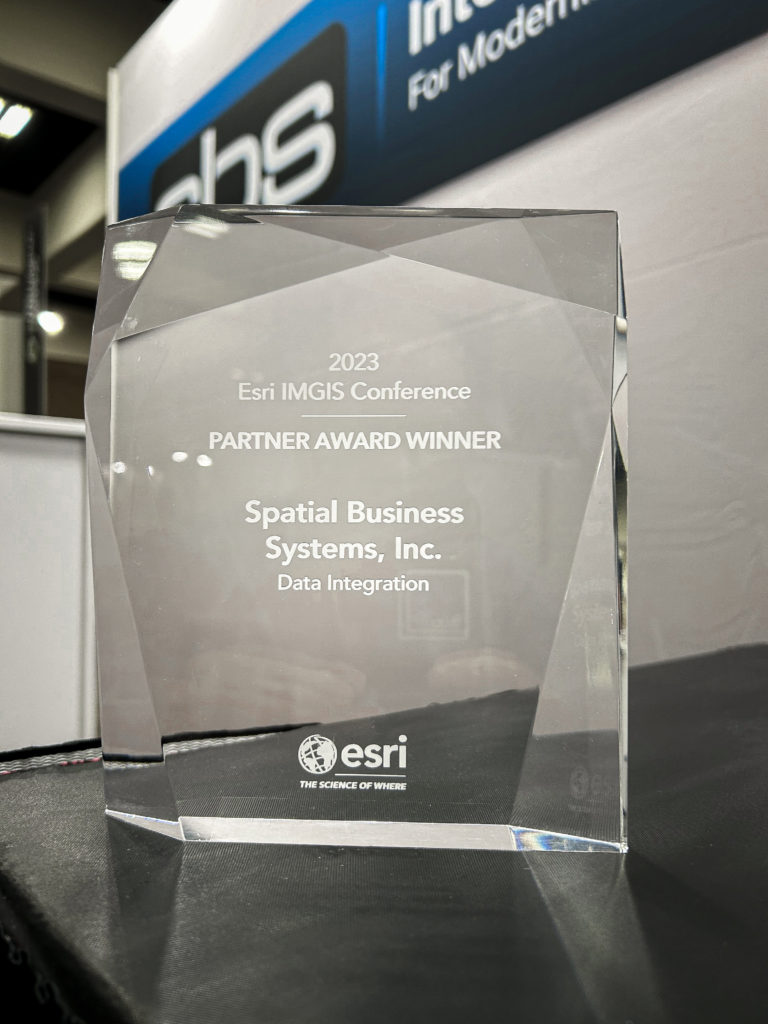 "Esri congratulates SBS on their 2023 IMGIS award in recognition of their innovative work leveraging ArcGIS software," said Richard Cooke, Corporate Director and SVP Global Business Development at Esri. "We are proud to partner with them to foster the use of GIS technology in support of our mutual customers improving infrastructure."
About Esri
Esri, the global market leader in geographic information system (GIS) software, location intelligence, and mapping, helps customers unlock the full potential of data to improve operational and business results. Founded in 1969 in Redlands, California, USA, Esri software is deployed in hundreds of thousands of organizations globally, including Fortune 500 companies, government agencies, nonprofit institutions, and universities. Esri has regional offices, international distributors, and partners providing local support in over 100 countries on six continents. With its pioneering commitment to geospatial technology and analytics, Esri engineers the most innovative solutions that leverage a geographic approach to solving some of the world's most complex problems by placing them in the crucial context of location. Visit us at esri.com.
About SBS
SBS is a global leader in intelligent software and spatial data integration solutions for major utilities and infrastructure companies across North America, Europe, and Australia. Our specialized software suite is tailored to support the engineering and design of vital network infrastructure assets, enabling the creation of practical models that enhance workflow management, promote collaboration, and standardize design practices. With a client base comprising hundreds of enterprise partners, SBS is headquartered in Littleton, Colorado, USA.