Perspectives on the Recent Autodesk – Esri Announcement
Dennis Beck, President, SBS
I recently attended Autodesk University, where I witnessed an on-stage discussion between Jack Dangermond, President of ESRI, and Andrew Anagnost, President of Autodesk.  Jack described the two companies as having reached a "turning point" in achieving cooperation between the worlds of engineering design and geographic sciences.  In the most general sense, the companies have agreed to work together to improve the integration of their product platforms.This would allow partners to create better, more connected products and workflows, with improved support for mutual customers.  Jack described it as, "understanding precedes action" and Autodesk's mantra for the conference was repeated several times; designers and engineers will be able to do, "more, better with less".
As a company focused on CAD/GIS integration and interoperability, we here at SBS are quite excited for the announcement and want to share our perspectives in this post.  Comments will be oriented towards infrastructure, particularly for utility and telecommunications assets, but I'm hopeful they will be applicable to readers in many related disciplines.  Here goes…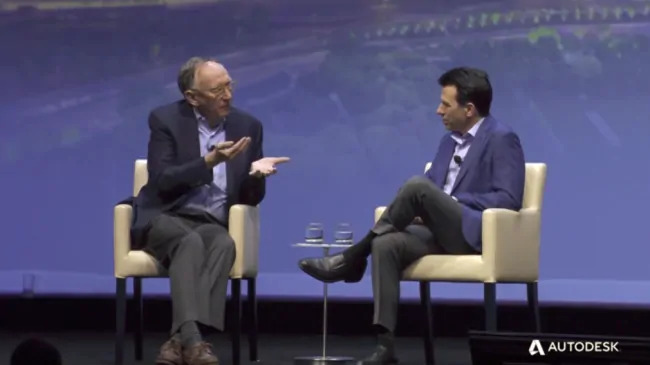 CAD and GIS are here to stay
Rather obvious, granted – but CAD and GIS are here to stay.  It's quite important to see the two industry leaders in their respective fields acknowledge this point.  These industries have matured, and roles of these product platforms are much better understood.  The announcement confirms what we have believed: that GIS and CAD have their own, unique capabilities that are important to an industrialized society.
I like to keep it simple; in the world of infrastructure, CAD is generally used to build things, and GIS is generally used to operate and manage assets.  Both systems analyze, but for different purposes.  CAD may perform structural analysis and constructability studies.  GIS analyzes system-level plans and human interaction with the environment.  Historically, there has been a desire amongst the CAD providers and GIS providers to compete for all things related to computerized graphics.  This may have made sense 20 years ago, but the evolution of these product families has made it clear to the marketplace that each product is well-suited to perform more specific core competencies.
GIS isn't very good at CAD and CAD isn't particularly good at GIS
Having been involved with the implementation of both GIS and CAD-based design tools over the last 25 years, it is very clear that customers are faced with significant challenges as they try to accomplish GIS functions within CAD and CAD functions within GIS.  Here are some of the key pain points I have seen:
Extensive customization
Both CAD and GIS require extensive customization to address requirements outside of their normal domains.  Vendors and customers have often subscribed to this approach, often with a desire to retain a single vendor platform. Unfortunately, it usually does not achieve cost savings – and CAD and GIS still wind up being necessary to perform the tasks that they are best suited to perform.  No matter the reason, the customizations have been very expensive and have rarely achieved the desired benefits.
Expensive upgrades
Once a system has been extensively customized, the ability to upgrade becomes quite limited.  This can also impact related systems that have been integrated. To make things worse, upgrading the external system can even break the customizations in the original system.  The planning and rework becomes very intense, drawn out and incredibly expensive. Whenever systems are significantly modified for these types of functions, whatever the cost was to perform the initial customization, you will spend multiples of that amount maintaining it.
Quality Issues
This is perhaps the most troubling issue.  Designs performed in GIS lack adequate accuracy to support the construction process.  This can cause expensive rework, or even worse, unsafe design and construction.  And designs performed in CAD, without proper GIS integration, often lack the necessary information to perform insightful, high-quality design documentation necessary to construct the end deliverables.
Lost Productivity
Another area that impacts both systems is the tremendous loss of productivity that is caused by gathering and redrawing of information. This also creates a lack of timely data and woefully inadequate communications between stakeholders during the design and construction process.
There will always be some overlap – and that's ok.
Advanced civil engineering projects, traditionally designed with CAD tools, will always deal with detailed geographic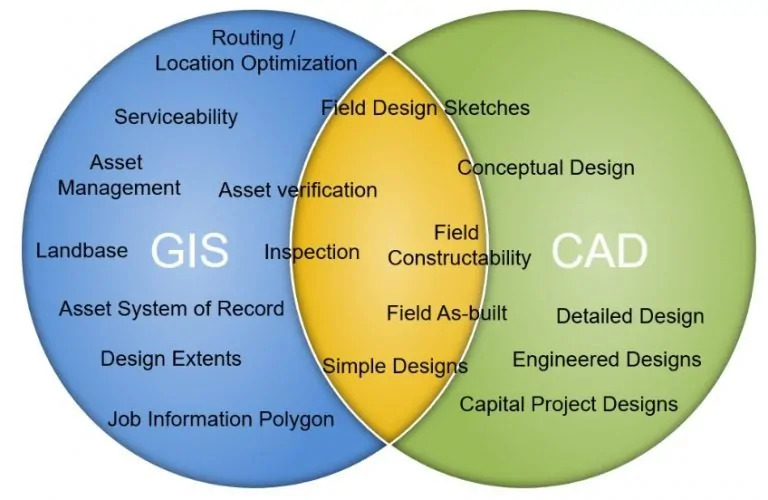 information to generate construction plans.  GIS tools will always be performing design functions (often termed "Geodesign") to address pressing issues in urban planning, environmental modeling and globalization.  As a CAD/GIS integrator we appreciate the differences and have shown where our utility clients typically see overlap in this diagram.
This example involves utility work and asset management workflows.  Both GIS and CAD systems are vitally important to performing these transactions and both products are necessary partners to support each other.  The overlap we tend to see (in yellow) tends to be around mobile transactions and lightweight design sketches, which can be performed by CAD, GIS and specialized mobile applications.
The need for advanced integration between the systems will continue to be vital to the success of integrated, enterprise-level application deployments.
A higher purpose
For all of us in the CAD and GIS communities, it will be interesting to see how these two large organizations move forward with this new relationship.  If done right, a higher purpose can truly be served.  For users of the systems, it would ideally show up as a better, smoother customer experience with higher quality designs, operations and analyses.  Beyond that, there lies an opportunity to improve our rapidly shrinking world with truly smart cities and intelligent infrastructure networks.  If we eliminate the barriers to sharing information in this area, it is easy to envision better, smarter designs that generate less waste, consume less energy, reduce construction rework and provide safer infrastructure for a rapidly growing population.  There are many other benefits out there that come to mind, so as always, I look forward to your comments.